MATTERPORT 3D & 360 VIRTUAL TOURS
World-famous architect Zaha Hadid said it best:
"There Are 360 Degrees. Why Stick to One? "
VIRTUAL TOURS: A GREAT COMPLEMENT TO PHOTOGRAPHY
Unlock the full potential of your property with our cutting-edge Virtual Tours. Whether it's a 360-degree or Matterport 3D, these tours will transport your audience right into your Boston, MA area space and give them a true sense of the layout and flow. And the best part? It's available 24/7 and accessible to everyone.
But we're not just any virtual tour provider – as a Matterport Service Provider and Google-certified photographer, we bring a unique level of expertise and skill to the table. We'll help you showcase your property in the most engaging and visually striking way possible.
Trust us, a virtual tour with us is sure to make a lasting impression. Let's work together to elevate your property and give your audience an experience they won't forget.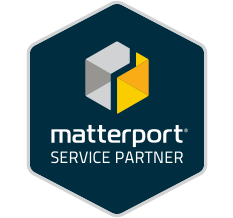 MATTERPORT BOSTON 3D TOURS
Residential and Commercial real estate – for sale or for rent.
Businesses, public services, …
Hotels, Bed & Breakfasts, Home Rentals, long-term Rentals, …
Restaurants, bars, pubs, … 
Venues, marriage venues, sports arenas, concert halls, …
Churches, temples, synagogues, oratories, …
OFFICES OF TOURISM / CITIES
Make an Impact with a 3D Virtual Tour
Make an impact on potential buyers, clients and investors with a 3D virtual tour of your property. Give them a realistic feel of the space and let them envision themselves living or working there before they even step foot in it.
Comparing Virtual Tour Options: Matterport 3D vs 360
When it comes to showcasing your property, both Matterport 3D and 360 virtual tours are excellent options that allow clients to experience the space without physically being there. However, there are some key differences between the two:
360 Virtual Tours:

    Can be retouched after creation
    Offer higher image quality and sharpness
    Outdoor spaces appear more realistic
    More affordable to host on your own website
Matterport 3D Tours:

    More affordable to create
    Fast turnaround time, as fast as same day availability
    Offer a unique dollhouse view and top-down perspective
    Seamless room-to-room transitions for a more immersive experience
    Includes the option to create floor plans

We'll work with you to determine the best option based on your needs and budget. Let us help you showcase your property in the most effective way possible.
|  | Matterport | 360 Tours |
| --- | --- | --- |
| Image Quality | | ✅ |
| Outdoor Spaces Quality | | ✅ |
| Retouching possibility | | ✅ |
| Use Phone/Tablet Gyro to move around | | ✅ |
| | | |
| Cost to create | ✅ | |
| Cost to host | | ✅ |
| | | |
| Speed to create | ✅ | |
| | | |
| Wow Factor | ✅ | |
| Dollhouse View | ✅ | |
| Top-down View | ✅ | |
| Floor Plan Creation | ✅ | |
Leave the hassle behind and let us handle everything for you!
Our team takes care of capturing the images of your location, coding, and tagging to seamlessly integrate virtual tours on your website. Whether viewed on a computer, tablet, or phone, our virtual tours are optimized for any device and designed to make a lasting impression. Trust us to take care of all the details, so you can focus on growing your business. Contact us today and let's get started!
TELL US MORE ABOUT YOUR PROJECT... (NO OBLIGATION)